Electricity in Switzerland
The electric current used throughout Switzerland is 230 Volts AC, 50 cycles (continental European standard).
Wall outlets are unique to Switzerland, however. There is a limited compatibility with other continental European plugs: the standard continental type hexagonal plugs with two round pins (Euroconnectors, pin distance 19 mm [3/4 inch], pin diameter 4.0 mm [1/6 inch]), applied for many electrical travel products, may be used without problems. Adaptors for other plugs are available in most hotels and in supermarkets. Please note that German / French / Austrian plugs with thick pins (diameter 4.8 mm [1/5 inch]) and Italian plugs with three thin pins in a row are not compatible with Swiss wall outlets, despite of the equal distance of their two main pins.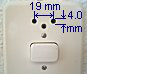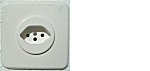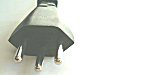 Power plug adaptor needed: Yes
Power sockets: type J
Voltage: 230 V
Frequency: 50 Hz